Up Turns 10: Celebrate by Looking Back at More Pixar Favorites
Up Turns 10: Celebrate by Looking Back at More Pixar Favorites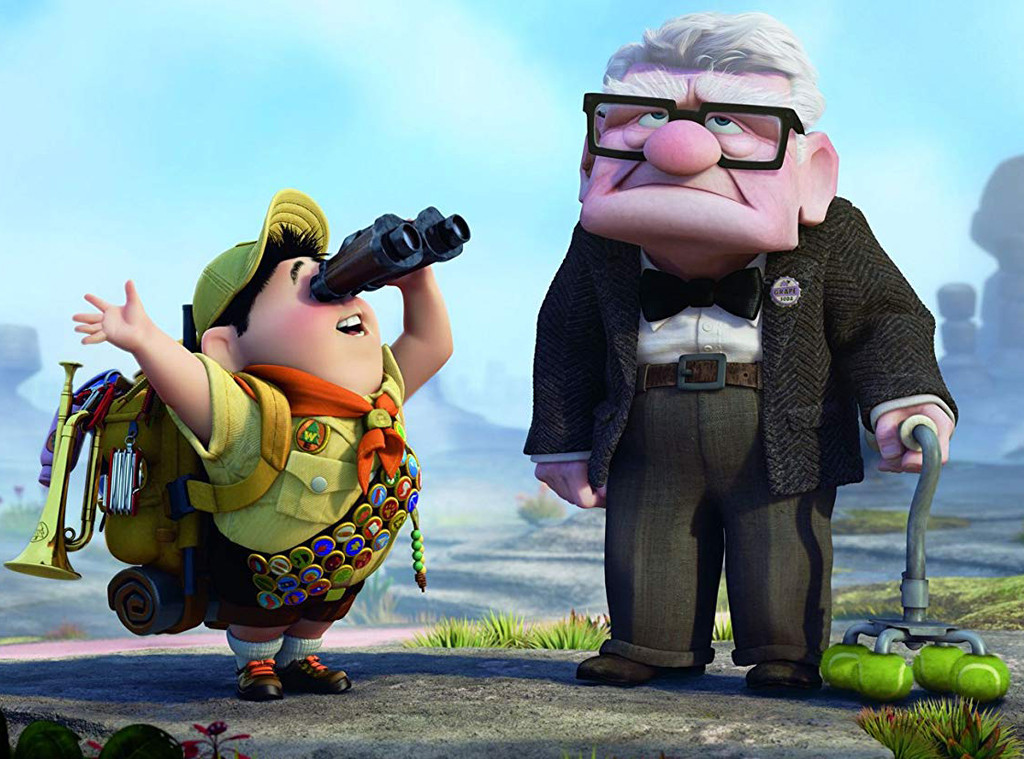 Pixar Animation Studios (as A Pixar Animation Studios Film), Walt Disney Pictures (presents)
Happy anniversary, Up!
It's been 10 years since Pixar released the animated classic.
For those who haven't seen the film, the movie is about a 78-year-old man named Carl (Ed Asner) who always dreamed of visiting Paradise Falls in South America with his wife Ellie. But after she passes away, he decides to make that dream a reality. Instead of traveling to the mysterious land by plane or boat, he chooses to float there by tying a bunch of balloons to his house.
Once in the air, Carl realizes he has a stowaway—an 8-year-old scout named Russell (Jordan Nagai) who had previously annoyed Carl with his attempts to earn his "assisting the elderly" badge.
Together, the two make the trip. Along the way, they befriend a dog named Dug, help out a bird named Kevin and face off against Charles Muntz (Christopher Plummer)—an explorer and childhood hero of Carl's who turns out to be the villain. Throughout it all, Carl and Russell develop a friendship that brings the fuzzy feelings Pixar is known for.
To look back at a few of your other favorite Pixar films, check out the gallery.
Pixar
20. Cars 2 (2011)

Piston Cup racer Lightning McQueen (Owen Wilson) travels overseas for the first-ever World Grand Prix. While he's focused on the competition, his tow-truck pal Mater (Larry the Cable Guy) takes a major detour when he encounters British spies Finn McMissile (Michael Caine) and Holley Shiftwell (Emily Mortimer) and accidently gets involved in international espionage.
Disney Pixar
19. The Good Dinosaur (2015)

Arlo (Raymond Ochoa), the youngest of the Apatosaurus family, winds up miles from home after a rainstorm washes him downriver. Lost and afraid, the dinosaur meets Spot (Jack Bright), a Neanderthal boy who offers his friendship and guidance. Together, the unlikely pair embark on an adventure to reunite Arlo with his family—and, along the way, to find Spot's family, too.
Pixar
18. Cars 3 (2017)

Racing into the sunset? When Lighting McQueen (Wilson) is pushed out of the sport he loves (thanks to Jackson Storm, voiced by Armie Hammer), he turns to Cruz Ramirez (Cristela Alonzo), a spirited young tech who dreams of racing. As No. 95 prepares to compete on Piston Cup Racing's biggest track, he realizes his racing days may be over—but hers are just beginning.
Pixar
17. Monsters University (2013)

Since childhood, Mike Wazowski (Billy Crystal) has dreamed of becoming a Scarer. As an adult, he enrolls at Monsters University. During his first semester, he meets Sulley (John Goodman), a natural-born Scarer. Their rivalry gets them kicked out of the elite Scare Program. To prove themselves, they must learn to work together and win the "Scare Games"—along with the misfits of Oozma Kappa, the weakest fraternity on campus—in order to be reinstated at school.
Pixar
16. A Bug's Life (1998)

Creepy crawlies have never been cuter! It's a bug-eat-bug world as worker ant Flik (Dave Foley) tries to defend his colony against greedy grasshoppers, led by Hopper (Kevin Spacey). Flik enlists other insects for help, but they turn out to be hilariously inept circus performers. Fifteen years later, this entomological adventure still has legs—and features some of the best end-credit "outtakes" ever.
Disney Pixar
15. Brave (2012)

"Some say our destiny is tied to the land, as much a part of us as we are of it. Others say fate is woven together like a cloth, so that one's destiny intertwines with many others. It's the one thing we search for, or fight to change. Some never find it. But there are some who are led," says Merida (Kelly Macdonald), the reluctant Scottish princess who tries to change her fate, only to inadvertently summon a curse. Can she undo the spell and save her kingdom (and, somewhat more importantly, Queen Elinor, voiced by Emma Thompson) before it's too late?
Disney•Pixar
14. Finding Dory (2016)

Dory (Ellen DeGeneres), a blue tang fish who suffers from short-term memory loss, can remember one thing: she somehow became separated from her parents as a child. With the help of her clownfish friends Nemo (Hayden Rolence) and Marlin (Albert Brooks), Dory sets off to find her mom (Diane Keaton) and dad (Eugene Levy). Their trek takes them across the Pacific Ocean to San Diego's Marine Life Institute. With the help of some old friends, like beluga whale Bailey (Ty Burrell) and whale shark Destiny (Kaitlin Olson)—plus her new pal Hank (Ed O'Neill), a cranky septopus—Dory scours the institute, never giving up on her dream of a family reunion.
Pixar
13. Toy Story 2 (1999)

Sequels can be risky, but this second go-round is more The Godfather: Part II and less Speed 2: Cruise Control. The plot follows Buzz Lightyear (Tim Allen) and buddies as they rescue Woody (Tom Hanks) from an adult toy collector. (No, not adult toys!) TS2 is loaded with laughs, sly film references, and welcome new characters, including perky cowgirl Jessie (Joan Cusack). Yee-haw!
Pixar
12. Cars (2006)

On his way to race Chick Hicks (Michael Keaton) and The King (Richard Petty) for the Piston Cup Championship, Lightning McQueen (Wilson) falls out of his trailer and finds himself in a forgotten town called Radiator Springs. Over time, he befriends the quirky residents, including Sally (Bonnie Hunt), Doc Hudson (Paul Newman) and Mater (Larry the Cable Guy), and helps restore the town to its former glory. With some coaching from Doc, he returns to the racing circuit more confident and humble than ever before—and this time, it's not all about winning.
Pixar
11. Incredibles 2 (2018)

Set moments after the first film, magnate Winston Deavor (Bob Odenkirk) hires Elastigirl (Holly Hunter) to make the public fall in love with superheroes once again. To accomplish that feat, her husband Mr. Incredible (Craig T. Nelson) becomes Mr. Mom, taking care of three children—including a confusingly superpowered baby Jack-Jack.
Pixar
10. Monsters, Inc. (2001)

Frightastic! Furry behemoth Sulley (Goodman) and one-eyed associate Mike (Crystal) help power Monstropolis by scaring children, but these beast buds have a full-on freak-out when unafraid moppet Boo invades their turf. The dizzying action sequences and snappy interplay between Goodman and Crystal make Monsters, Inc. so fun it's scary.
Disney/Pixar
9. Coco (2017)

Who could forget a movie with a heartbreaking song like "Remember Me?" Pixar's first musical film is a colorful, layered story set in the heart of Mexico. Despite his family's ban on music, Miguel Rivera (Anthony Gonzalez) dreams of becoming a world class talent, just like his idol Ernesto de la Cruz (Benjamin Bratt). Through a series of events, Miguel winds up in the Land of the Dead, where he meets a charming trickster named Héctor (Gael García Bernal). Together, the new friends embark on a journey to uncover the real story behind Miguel's family history.
Walt Disney Pictures
8. WALL-E (2008)

GOLL-E, it's good. The titular trash-bot says little more than bleeps and bloops but makes an irresistible hero, with his expressive binocular eyes and palpable longing. When WALL-E meets the droid of his dreams, he follows her to a galaxy far, far away, with a space colony inhabited by gluttonous humans. With outta-this-world character work and stellar sound design, whimsical WALL-E inspires awe and "Aww…"
Disney/Pixar
7. Toy Story 3 (2010)

Third time's a charmer as Andy's toys wrestle with allegiance to their college-bound owner—and to each other. Accidentally donated to a scary daycare center, Woody & Co. get trapped by teddy-bear-gone-bad Lotso (Ned Beatty) and plan their escape. This threequel impresses with whiz-bang set pieces, a riotous Spanish-speaking Buzz, and a poignant ending that claws at the heart. Or as the Aliens say, "The Claw!"
Disney
6. The Incredibles (2004)

An amazing feat of animation and storytelling, The Incredibles is a super-sized comic-book caper that lives up to its title. A family of former superheroes, headed by Bob and Helen Parr (Craig T. Nelson, Holly Hunter), is thrust back into crime-fighting action when fan-turned-villain Syndrome (Jason Lee) exacts his revenge. The thrills and gags fly at you faster than a speeding bullet!
Disney Enterprises, Inc & Pixar Animation Studios
5. Ratatouille (2007)

Pixar combines the finest ingredients—story, visuals, characters, performances—into an enormously satisfying concoction. Spunky rodent Remy (Patton Oswalt) dreams of being a top chef at a French restaurant and forms an unlikely alliance with kitchen worker Linguini (Lou Romano). Together, they whip up dishes that wow even fussy food critic Anton Ego (Peter O'Toole). Similarly, finicky cinephiles can't resist this delectable treat. Bon appétit!
Pixar
4. Up (2009)

Faced with eviction, widower Carl (Ed Asner) hoists his house with balloons and sets sail for South America—but with an unexpected stowaway, young wilderness explorer Russell (Jordan Nagai). This atypical buddy pic has exciting chases and funny dog antics ("Squirrel!") to delight kids of all ages, plus a deeper message for adults about the precious adventures in life. Just as helium has the power to lift a house, Up has the emotional heft to lift the spirit.
Disney/Pixar
3. Finding Nemo (2003)

This fin-tastic fish tale offers oceans of adventure but also plunges the depths of emotion. When overprotective clownfish Marlin (Brooks) gets separated from his son, he embarks on a dangerous, hilarious search through the Pacific. Nemo nets dazzling visuals and unforgettable characters, including forgetful fish Dory (DeGeneres), who schools us in this life lesson: Just keep swimming, just keep swimming.
Disney•Pixar
2. Inside Out (2015)

Riley (Kaitlyn Dias) is a happy 11-year-old girl living in Minnesota, but everything changes when her family relocates to San Francisco. Riley's emotions, led by Joy (Amy Poehler), try to guide her through the life-changing event. But the stress of the move brings Sadness (Phyllis Smith) to the forefront, and Anger (Lewis Black), Fear (Bill Hader) and Disgust (Mindy Kaling) become more prominent, too. Joy and Sadness accidently end up in the far reaches of Riley's mind, and they must return to "headquarters" ASAP—or the tween's "core memories" will be lost forever. You'll laugh, you'll cry—and, more than anything, you'll feel something.
Pixar
1. Toy Story (1995)

Pixar's beloved first feature from 1995 remains its ultimate achievement, launching a film franchise and company that would soar to infinity and beyond! Pixel-perfect from beginning to end, Toy Story introduced us to the now-iconic characters of Woody, Buzz, Rex, Hamm, and many others—and forever changed the way we'd look at our toys and computer-animated movies. An indelible classic.
Published at Wed, 29 May 2019 15:12:25 +0000