A Complete Timeline of the Ongoing Drama Surrounding Britney Spears' Well-Being and Conservatorship
A Complete Timeline of the Ongoing Drama Surrounding Britney Spears' Well-Being and Conservatorship
The drama surrounding Britney Spears' life continues to unfold amid her treatment at a mental health facility.
E! News can confirm that the singer will have a status hearing concerning her conservatorship on May 10. In the over ten years since the star was placed under the guidance of a conservator, she has had numerous meetings with judges in regards to the arrangement. However, recent events in Spears' life have some viewing the routine court hearing in a different light than normal.
With the singer seeking help in a mental health facility and her father, Jamie Spears, who currently acts as the sole conservator, reportedly in failing health, some people are hoping that this marks the end of Britney's time living under the authority of Jamie. A growing number of supporters have even created a viral movement urging people to help #FreeBritney.
But the controversy surrounding the pop princess goes back to before Spears' entrance into the mental health facility.
January 4, 2019: To the dismay of her loyal followers, Britney revealed that she is taking an indefinite work hiatus and canceling her Domination residency in Las Vegas amid her father's health struggles. In an apologetic Instagram post, the star wrote, "I've been looking forward to this show and seeing all of you this year, so doing this breaks my heart. However, it's important to always put your family first… and that's the decision I had to make." According to an insider, Jamie Spears' colon spontaneously ruptured, but he is expected to make a full recovery.
April 3, 2019: The star later reemerged on social media with an Instagram post advocating for self-care, which was swiftly followed by reports that she entered a mental health facility. A source told E! News at the time, "Britney's father's health has been weighing on her, and affecting her emotional well-being." The source emphasized that "Britney decided to do this on her own" so that she can be allowed to "rejuvenate and rest."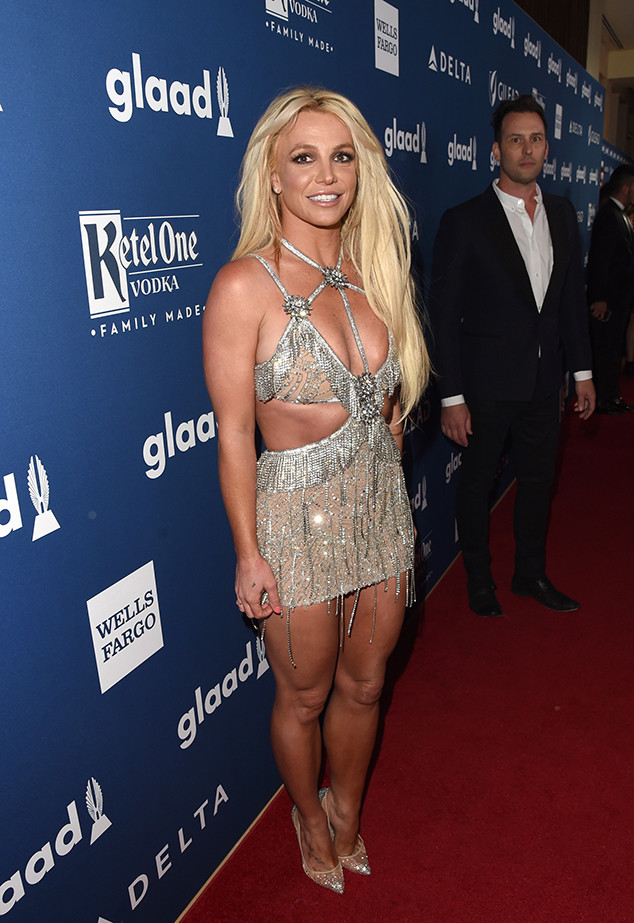 J. Merritt/Getty Images for GLAAD
March 4, 2019: For reasons that remain unclear, Britney's co-conservator Andrew Wallet resigned from his position, leaving Jamie as the sole conservator over the 37-year-old's life. According to Us Weekly, the lawyer was responsible for monitoring the singer's financial assets. Because of the importance of his position, he requested that his resignation be accepted "immediately and without delay" so as not to disrupt any ongoing business activities. While he is no longer the conservator or attorney for Spears, he continues to practice law.
April 11, 2019: The singer took a slight break from her stay at the wellness facility when she went to a Los Angeles-area salon for a root touch-up. An eyewitness told E! News, "She seemed fine and content… [She] was definitely excited to her hair done." Brit later enjoyed a relaxing day with her boyfriend Sam Asghari at the Beverly Hills Montage for a low-key Easter celebration.
April 16, 2019: The #FreeBritney movement kicked off on this fateful Tuesday, when the Britney's Gram hosts Tess Barker and and Barbara Gray revealed a voicemail they allegedly received as"an anonymous tip from a credible source." This supposed tipster claimed to be a paralegal who formerly worked with an attorney connected to the conservatorship. In the revealing voicemail he left, he alleged that Britney was essentially being controlled by Jamie. "What is happening is disturbing, to say the least. Basically, Britney was in rehearsals for Domination. It came to Jamie's attention that Britney was not taking her medication as prescribed. She was missing a lot of doses and just full-on not taking them," the unidentified voice claimed. "So they got her to the doctor and the doctor said, 'OK, if you don't want these medications, let's get you on a new one.' She refused to take the new one. Jamie said, 'Either you take this medication or the show's off, and I'm pulling my support and you can't do it.' Britney did not follow Jamie's instructions, so he was true to his word—he pulled the show, he verbatim said, 'Blame it on my illness.'" He even claimed that Britney did not willingly enter the wellness facility.
April 16-17, 2019: Britney's mom appeared to weigh in on the drama when she began to like posts supporting the FreeBritney movement. One such tweet read: "I really hope you are supporting Britney in trying to end [her] conservatorship. I really hope your ailing ex husband isn't keeping your daughter somewhere against her will." These comments were in response to a particularly cryptic Instagram post depicting one of "God's warriors" on their knees. It's safe to say that her likes spurred more speculation.
April 22, 2019: As speculation continued to mount, fans gathered in West Hollywood, Calif. to demand action from lawmakers regarding Britney's ongoing conservatorship.
April 23, 2019: Britney addresses the rumors surrounding her conservatorship in an enthusiastic Instagram video. "I wanted to say hi, because things that are being said have just gotten out of control!!! Wow!!! There's rumors, death threats to my family and my team, and just so many things crazy things being said," the star insisted. "I am trying to take a moment for myself, but everything that's happening is just making it harder for me." She added that "fake emails" being created by Sam Lutfi are being circulated, but that she wants her fans to not "believe everything you read and hear."
April 24, 2019: E! News has learned there is a general status hearing scheduled for May 10, 2019. It is not clear why the hearing was scheduled. Britney is not required to attend.
April 25, 2019: A source confirmed to E! News that the singer checked out of the treatment facility and is "very happy to be home." The source added, "She's feeling more stable and a little bit better, but it's a work in progress." As for her father, whose health is said to be a cause of Britney's stress, he is "doing better," which has helped to relieve some of the "anxiety surrounding that." Now that the star is home, the source said she is slowly easing back into her "old routine, working out and being with her kids." Her boyfriend Sam will help to make sure she doesn't "overdo" it. "They are trying to keep her stress level as low as possible and to just have her relax and take small steps… Britney's feeling happier and healthier, but there's a ways to go," the insider shared.
May 6, 2019: According to court documents obtained by E! News, Lynne Spears filed a request asking to be informed of all matters pertaining to Britney and her conservatorship. Sources close to Britney's conservatorship told The Blast that Lynne spoke with Jamie before filing her documents. The outlet reports that Lynne wants all the information as it officially comes in from the court. Britney's team has been supportive of Lynne being involved with the ongoing situation and at this time, she has not made a move to become an actual conservator.
May 7, 2019: "Lynne and Jamie Lynne flew out to LA to try and figure out what's really going on," a source told E! News. "They are staying with Britney and trying to make heads or tails of the situation." The insider added that Lynne is "extremely upset to see Britney in the condition she is and [feels] that she can't help her." The insider continued, "She wants to know what's really going on so that she can sleep at night. The anxiety and worry is taking its toll. She wants to see Britney get better and to be healthy and happy and right now that's not happening."
(This story was originally published on Wed., Apr 24, 2019 at 4:33 p.m. PST.)
Don't miss E! News every weeknight at 7, only on E!
Published at Tue, 07 May 2019 21:11:00 +0000