Real Housewives and More Stars Congratulate Andy Cohen on His Son's Birth
Real Housewives and More Stars Congratulate Andy Cohen on His Son's Birth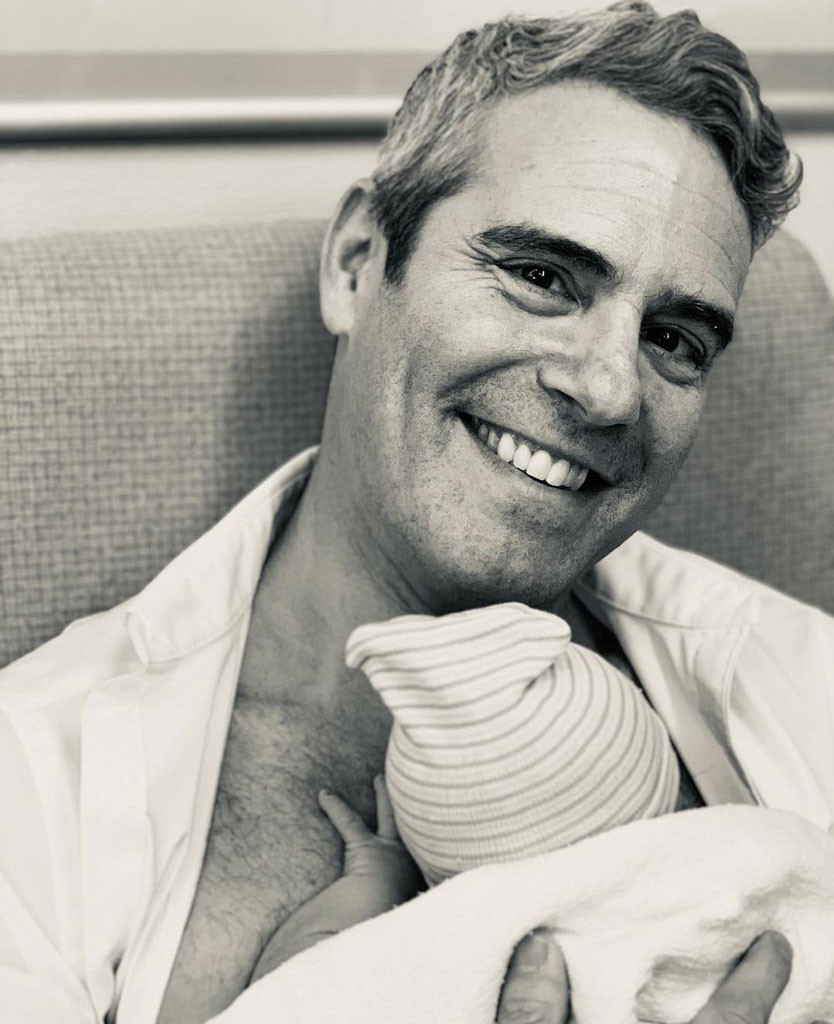 Instagram
Andy Cohen is a dad!
On Monday night, the Watch What Happens Live host announced the arrival of his son, Benjamin Allen Cohen. "WOW! This is my son, Benjamin Allen Cohen. He is 9 lbs 2 ounces !! 20 inches !! Born at 6:35 pm, PT," Cohen shared with his Instagram followers, along with their first father-son photo. "He is named after my grandfather Ben Allen. I'm in love. And speechless. And eternally grateful to an incredible surrogate. And I'm a dad. Wow."
After making the announcement, many of Cohen's closest pals took to social media to congratulate him on becoming a dad.
"At long last. And February 4th will never be the same," Sarah Jessica Parker wrote on Instagram alongside the photo of Andy and Benjamin. "We are already madly in love. Welcome Benjamin Allen Cohen we've got big plans for you. X, SJ."
Kelly Ripa also took to Instagram to share a photo of a cake with "it's a boy" on the top.
"It sure is! Welcome Benjamin!" Ripa captioned the photo. "We've been waiting for you!!! Mazel Tov @bravoandy."
Cohen's pal John Mayer posted a photo of adorable baby shoes to Instagram with the caption, "congratulations Andy!"
It was just over a week ago that Cohen was joined by his pals, including Mayer and the Real Housewives stars, for a baby shower at The Palm restaurant in Beverly Hills. During the shower, Real Housewives of Beverly Hills star Lisa Rinna showed off her dance moves and encouraged everyone to "get up on the table and dance for f–king Andy Cohen and the baby."
On Monday, Rinna referenced her baby shower speech in her Instagram post, writing alongside Cohen's father-son photo, "GET UP ON THE TABLE AND DANCE FOR ANDY AND HIS BEAUTIFUL BABY BENJAMIN NOW!!"
Rinna's co-star Kyle Richards also shared Cohen's photo on Instagram with the caption, "How beautiful is this ? I'm so happy for you @bravoandy."
On Tuesday morning, Real Housewives of New Jersey's Teresa Giudice reposted Cohen's picture on Instagram, writing, "All the love ❤️ in the world to @bravoandy & Ben! Congratulations on this amazing journey you're about to embark on, each day your heart will grow in ways you didn't think possible. I'm so happy for you!!!"
"I'm shaking!" NeNe Leakes wrote on Instagram. "The tears and joy i feel for you right now! I just can't believe this…ANDY U ARE A DAD @bravoandy congratulations."
Vicki Gunvalson also wrote to Cohen, "So happy for you @bravoandy!!!! Love you!"
Real Housewives of New York's Luann de Lesseps shared the same father-son photo, captioning her post, "Mazel tov @bravoandy ! So happy for you !"
Dorina Medley also wrote on social media, "CONGRATULATIONS @bravoandy!! Welcome to the world Benjamin!"
Published at Tue, 05 Feb 2019 16:49:23 +0000