Halsey Puts Cheating Ex on Blast During Powerful SNL Performance
Halsey Puts Cheating Ex on Blast During Powerful SNL Performance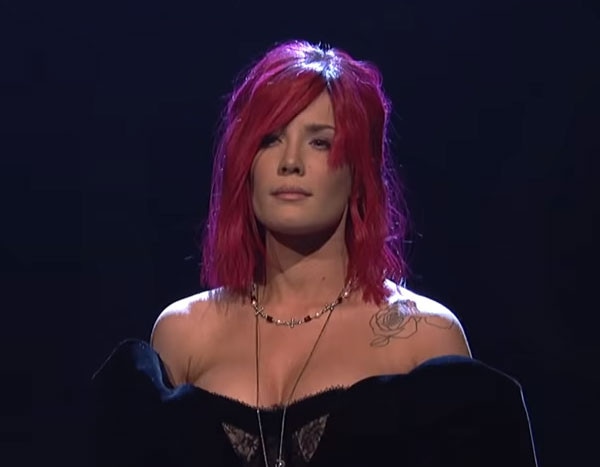 Halsey sent a message during her Saturday Night Live performance this weekend.
On Saturday evening, the 24-year-old singer (real name Ashley Nicolette Frangipane) took the SNL stage as both the host and the musical guest of the episode. During her first musical performance, Halsey was accompanied by the piano as she sang her hit song, "Without Me." In the middle of the performance, words started to appear on the walls around her.
"I'm so sorry Ashley, I cheated," a message read in bold behind Halsey.
Surrounding the message, locations of places where this person allegedly cheated were written.
"At home in Los Angeles," one location read, while others included New Orleans, Austin and Minneapolis.
"More places I can't even remember," one line read.
The performance has social media speculating that the alleged cheating ex is Halsey's former boyfriend, G-Eazy. The couple split up in October after briefly rekindling their romance.
"halsey just dragged g-eazy through dIRT!!!! i love her so much, she deserves better than a cheater and liar," one Twitter user wrote in response to the performance.
Another social media user tweeted, "halsey putting g-eazy on blast during a live snl performance is big 2019 energy."
Halsey recently opened up about the song in an interview with Glamour, saying that it's about caring for a person so much that you end up losing sight of yourself.
"I call myself a collector; I collect things from people and use them to widen my artistic repertoire, so that I am writing from a culmination of experiences from the world," she shared. "But I'm an imitator as well, because I'm so passionately putting myself in other people's shoes all the time."
After seeing Halsey's performance, Kelly Clarkson took to Twitter to send her love.
"@halsey that was a killer performance of #WithoutMe on #SNL your vocals, the story, the writing on the wall," she tweeted. "Best performance I've seen in a while. Raw. Painful. Pure. Thanks for being you!"
"I.. am going to cry," Halsey replied. "I saw u at staples the night I found out I was hosting. I cried and laughed and you reminded me why i do this so this goes -such- a long way. Kelly thank u for being one of the reasons I write ur a queen."
Published at Sun, 10 Feb 2019 17:08:44 +0000